Welcome to Sedona Wedding Cakes. We are proud to be serving the Sedona Area Communities for over 25 years!


Sedona Wedding Cakes products are made by Pastry Chef ~ Cake Artist Donna Joy.
Operating as Sedona Sweet Arts by appointment only.
Sedona Wedding Cake Slideshow

Culinary Artist Donna Joy Awards
Best Wedding Cake Arizona People Magazine
Donna Joy Varney was named Arizona's Best Wedding Cake by People Magazine
The Knot Best of Weddings
Best Desserts
Sedona Red Rock NewsBest Cake Decorator
Kudos (2 years)
Best Wedding Cakes
Brides Choice Award Wedding Wire (6 years) Best Desserts Kudos (3 years) Best Grooms Cakes. Grooms Cake of the year ESPN.
Donna Joy has been professionally making pastry & desserts since the early 1990's. Desserts and Cakes can be custom fit for you, creating a culinary artful masterpiece. From simple, wacky, and elegant Pastry Chef Donna Joy is so very passionate about creating the perfect culinary piece for you. Wedding cakes, Grooms cakes, and special events tickle her creative side.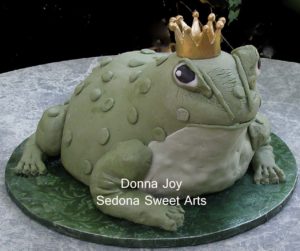 Freddie the Bullfrog Grooms Cake appeared in movie His crown was removable.
Donna Joy has been awarded many awards over the years from taste to design and truly loves creating Sedona Sweet Arts. Her work has been used in movies, TV, and magazines all over the world.
SEDONA WEDDING CAKES by Pastry Chef Donna Joy
Email contacts:
donna@sedonaweddingcakes.com
donna@donnajoys.com
Wedding Cake Questionnaire Form Form here
Donna Joy featured in People Magazine. "Arizona's Best Wedding Cake"
Sedona Wedding Cakes Galleries
Featuring thousands of cake art created by Pastry Chef Donna Joy is hosted :Sedona Wedding Cakes Galleries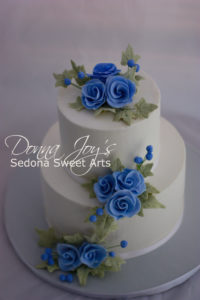 Custom Artisan Handcrafted Sugar Art & Wedding Cakes by Pastry Chef Donna Joy
Wedding Cake Features,Tutorials & Galleries
Features on Sedona Wedding Cake
Sedona Wedding Cake Features on Sedona Sweet Arts
Sedona Wedding Cake Features on Donna Joy's